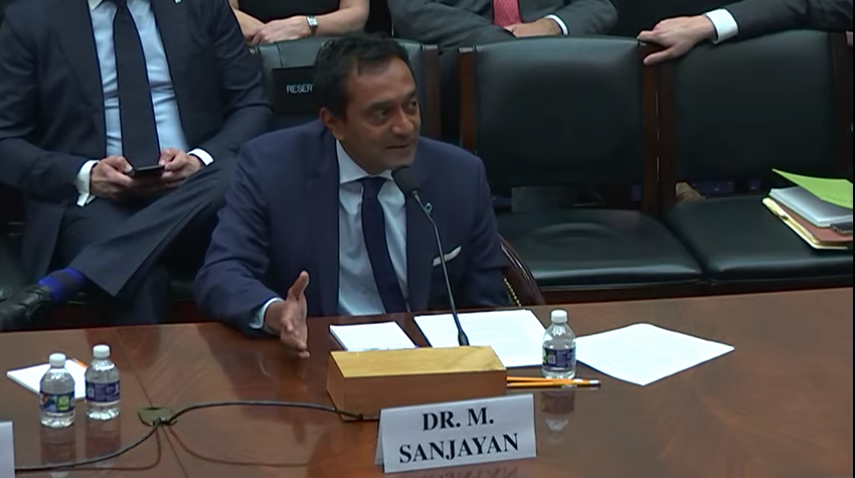 A proposed bill in the United States could help local communities around the world fight climate change by protecting the forests they depend on.
Testifying in front of the U.S. House of Representatives on Thursday, Conservation International CEO M. Sanjayan expressed his support for the AMAZON21 bill, proposed by U.S. Rep. Steny Hoyer (D-Md.). If passed, the act would authorize a trust fund of US$ 9 billion for the U.S. State Department to help developing countries reduce climate-warming carbon emissions caused by deforestation.
"At its core, the legislation incentivizes developing nations that invest in maintaining the health of some of our most critical ecosystems to protect and restore nature," wrote Sanjayan in written testimony submitted to the committee before the hearing.
The legislation would also establish a technical assistance program through the U.S. Agency for International Development (USAID) to help developing countries and landowners access carbon markets, which can drive funding to local communities and Indigenous peoples who commit to protecting nature — and the carbon it stores.
"The nature tomorrow will be more valuable than it is today," Sanjayan said during his testimonial. "The signals that we give here with AMAZON21 will enable companies to invest in nature and invest in carbon with more certainty in these countries that are rich in carbon and poor in other resources."
---
By that factor, combating deforestation remains one of the most effective ways to confront climate breakdown. In fact, a 2017 study led by Conservation International's Bronson Griscom found that nature can help provide nearly a third of the emissions reductions needed to stay below 1.5 degrees Celsius (2.7 degrees Fahrenheit) of temperature rise.
In addition to supporting carbon sequestration, protecting forests helps improve food security, conserve wildlife habitat and maintain freshwater resources. For the 1.2 billion people in the tropics who directly depend on nature for their most basic needs, conserving forests is critical to daily survival.
Currently, however, just 3 percent of all available global climate finance is aimed at protecting nature. And without other means of income, many Indigenous and local peoples are forced to turn to exploiting nature for their livelihoods.
"What is happening in my region in Sahel [of Chad] … communities are fighting just to get access to natural resources and that creates a big conflict," Hindou Oumarou Ibrahim, a member of Chad's Mbororo nomadic pastoralist community and Conservation International board member, said in her testimony at the hearing.
"We need the leadership of countries like the U.S. and public funding to come to communities and give hope to young people."
According to Sanjayan, the funding and technical support provided by the AMAZON21 bill could encourage developing nations to maintain ecosystems that are critical to their health and the health of the rest of the world. To illustrate his point, he compared the scenario to the public outcry that could ensue if a skyscraper was built inside New York City's famous Central Park.
"It is in the enlightened self-interest for every New Yorker to have Central Park protected," Sanjayan said. "What AMAZON21 tries to do is create that enlightened self-interest among Indigenous communities, local communities and governments to realize that what they have today is going to be worth more tomorrow and protecting it is not only in the interest of the planet but in their self-interest, as well."
Watch the full hearing here.
Kiley Price is the staff writer and news editor at Conservation International. Want to read more stories like this? Sign up for email updates here. Donate to Conservation International here.
Cover image: Conservation International CEO M. Sanjayan (© Conservation International)
If you'd like to read the original source of this article please click here Visit Source