This article originally appeared in our Circularity Weekly newsletter. Subscribe here.
Imagine if a significant portion of the textiles that cannot be reused in their current form could be recycled. That's part of the vision for the base-case and upside-case scenarios laid out in a recent report on textile recycling in Europe from the consulting firm McKinsey.
Here's the base-case scenario: 50 percent of post-consumer household textile waste in the 27 European Union countries and Switzerland is collected, up from today's 30 to 35 percent. In the upside case, 80 percent is collected.
A lot has to happen to get to either of those scenarios. Fashion companies need to set ambitious targets for recycling textiles and designing for circularity. Textile manufacturers need to invest in equipment capable of working with recycled fiber. Investors need to support new ways of making textiles. The public sector needs to expand infrastructure to support textile collection and recycling. And there's more that each of these stakeholders can do.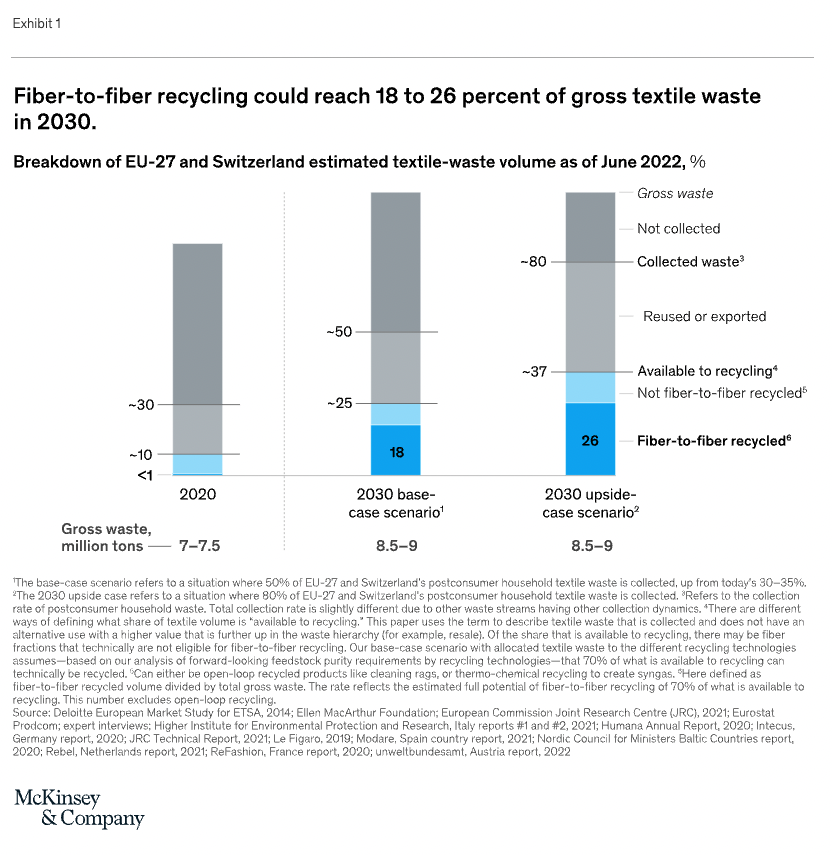 It's clear that the fashion industry, which is highly resource-intensive and waste-generating, is not at the point where eliminating all textile waste is a viable option. That's why the innovations with textile recycling feel necessary.
Here are four takeaways from the 75-page report:
1. There are three factors driving the push to scale textile recycling.
Those factors are regulation, consumer demand and environmental awareness among investors (on the brand and solution sides of the textile waste equation) and shareholders (on the brand side).
The report points to recent European policy initiatives that urge the fashion industry to move toward enhanced waste collection and more circular models. "For example, Article 11(1) in the Waste Framework Directive states that member states are required to set up separate collections of textiles by 2025," the authors noted.
2. Textile recycling is just one of the solutions the fashion industry should use to address its waste issues.
"It's without any question that reducing overproduction and reducing consumption are environmentally superior to recycling," said Karl-Hendrik Magnus, senior partner at McKinsey's Frankfurt, Germany, office and leader of sustainability in its apparel, fashion and luxury group. "If I am able to prevent waste in the first place, that will always be superior to recycling the waste." (Magnus is one of the authors of McKinsey's recent report.)
3. It's going to take some serious cash.
Earlier this month, Circ announced a $30 million funding round. "I think when you look at what it's going to take for the industry [to reach textile recycling at scale], it's going to be billions and billions of dollars to do it, but we need to do it," said Circ CEO Peter Majeranowski.
To reach the scale laid out in the base-case and upside-case scenarios, McKinsey estimates that "capital expenditure investments in the range of 6 billion to 7 billion euros would be needed by 2030." And that's just for the industry in Europe. The numbers needed for a global shift for textile waste is likely much more.
If I am able to prevent waste in the first place, that will always be superior to recycling the waste.
While it's not the same industry, I'm reminded of a point Keefe Harrison, CEO of The Recycling Partnership, which is focused on other recyclable materials like packaging, made during Circularity 22. She said the price tag for fixing recycling in the U.S. is $17 billion — those dollars would be spent on building the necessary infrastructure and addressing accessibility. "Don't freak out because it's doable," Harrison said. "We can stop having this conversation in five years if we just did that."
4. For textile recycling to work, collaboration is imperative.
The textile collection and sorting ecosystem is fragmented, according to the report.
McKinsey recommends that businesses across the textile value chain, investors and public sector actors come together "in an unprecedented way to engage in a highly operational joint effort to overcome the barriers to scale."
That would look like stakeholders from these separate parts of the value chain such as collectors, sorters and recyclers connecting to ensure more textiles are available for recycling.
The report pointed to two emerging textile-waste platforms — Reverse Resources and Refashion Recycle platform — that could help with fragmentation by connecting textile-waste sellers to buyers.
During an interview, Magnus said that fashion companies have a big responsibility to invest in recycling, but also invest in other measures to improve their garments and the industry as a whole. That includes investing in extending the lifetime of the product by ensuring quality and providing care instructions for garments, helping consumers make conscious choices about buying new items, and balancing the trade-offs with newness and sustainability.
"That takes transparency," Magnus said. "And that takes support and openness of communication from the brands."
If you'd like to read the original source of this article please click here Visit Source