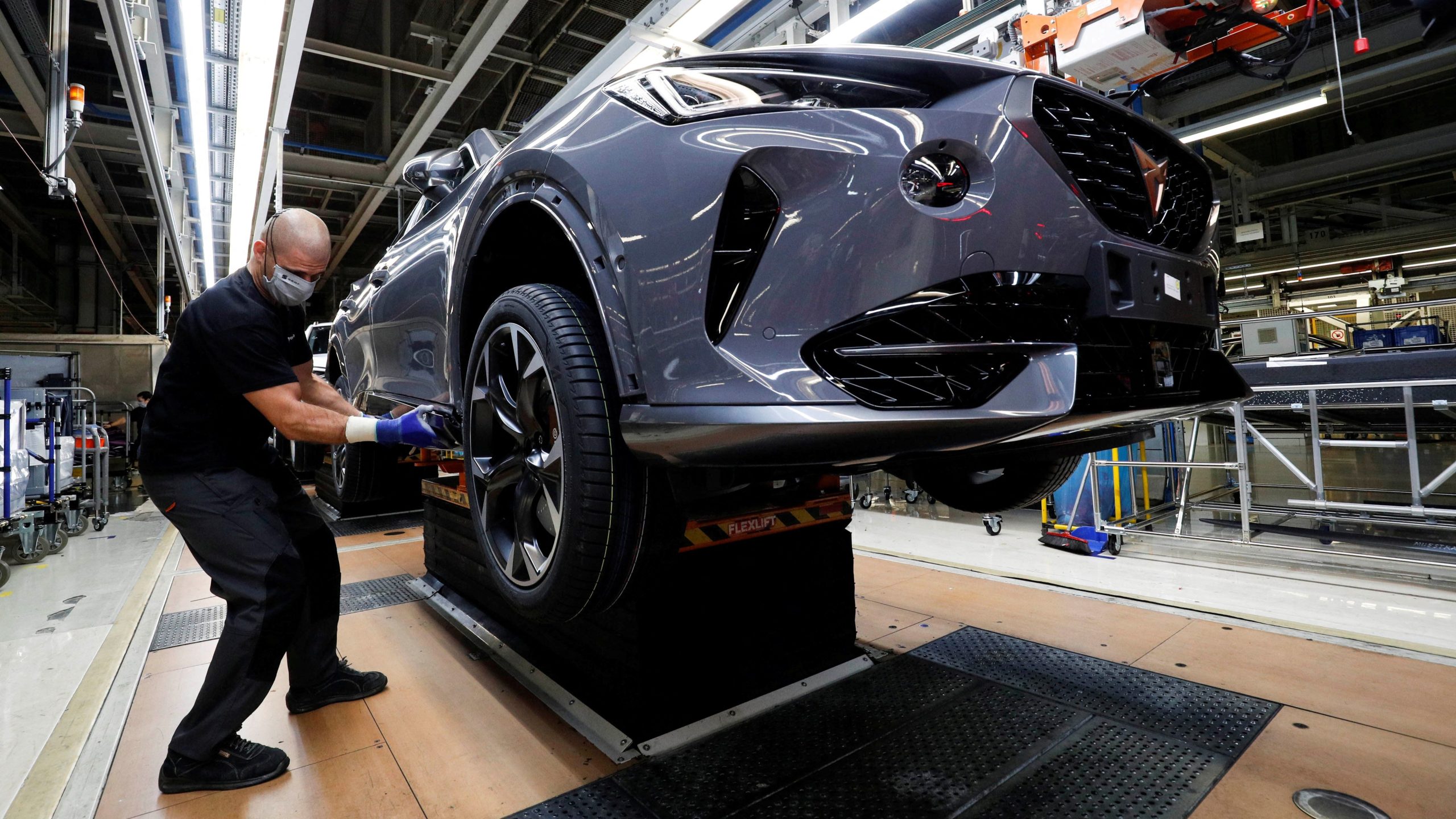 Volkswagen and Renault plan to request funds from a revamped Spanish government scheme aimed at encouraging electric vehicle (EV) production in the country, while Stellantis and newcomer AEHRA may do so, the carmakers told Reuters.
Madrid will launch a new, more flexible version of the PERTE scheme around July, worth 2 billion euros ($2.2 billion) after last year's initial funding round flopped, with only 27% of an earmarked 2.9 billion euros allocated.
It hopes the programme, which draws on European Union pandemic support funds, will help Spain – Europe's second-largest car producer – stay in the EV race after losing out on investment to rivals in the region and further afield.
With subsidies offered by the United States under the Inflation Reduction Act adding to competition from lower-cost countries in the EU's east, expanding EV capacity is seen as vital for Spain's industrial future.
"Spain tried the best it could with the first (PERTE) but we need to make sure that the second one is a lot better and more flexible," said Wayne Griffiths, chief executive of Volkswagen's Spanish unit SEAT and chairman of the ANFAC Spanish vehicle manufacturing association.
"We need to speed up. We can't afford to lose any more time."
VW will submit a new PERTE request, which could imply manufacturing additional EVs or assembling batteries in Spain, projects not covered by the funds it received last year.
France's Renault, which records show received 40 million euros in the first PERTE, also intends to take part in the new funding round, its chief strategy officer and manager for the Spanish market Josep Maria Recasens told Reuters.
Depending on the timeline and conditions, Renault could decide to manufacture more hybrid cars in Spain, Recasens said.
Spain secured the European Commission's authorisation to relax the PERTE rules after tight conditionality was blamed for last year's low take-up, which led to the dismissal of two senior government officials.
Jose Maria Lopez, who is now in charge of the programme, said he was confident the scheme's remaining 2 billion euros will be disbursed across twin tenders, for EV and battery production, to be launched around July.
Bids will now be individual, rather than through associations of large and small firms, and the selection criteria will be simpler. The deadline for investments to be executed has been extended to 2028 from the first scheme's 2025, a change VW's Griffiths said was "good news".
"LOST YEAR"
Stellantis is in "direct discussion with the Spanish government in the context of increased BEV (Battery Electric Vehicles) production in Spain", said a spokesperson for the Franco-Italian company, whose brands include Fiat and Peugeot.
Stellantis already manufactures EVs in Spain and received 67 million euros from the first PERTE, but could request more funds to boost production.
The revamped programme is also attracting new players.
Italy's AEHRA, which was founded last year and aims to produce its first EVs by 2026, may request PERTE funds as it eyes Spain as a manufacturing option alongside Italy or Central Europe, co-founder and CEO Hazim Nada said.
Griffiths said using the EU funds is "essential" for Spain's future as some investments would otherwise be non-viable.
But he warned that 2022 was a "lost year" for Spain's electrification goals, and urged more progress on plans to promote EV sales and expand the charging network. Unlike Germany, Europe's leading car producer, Spain lacks a domestic manufacturer to champion the EV cause.
With the EU set to ban new CO2-emitting cars from 2035, ANFAC data shows Spanish sales of EVs and plug-in hybrids as a proportion of total sales are more than 10 percentage points behind the EU average and neighbouring France and Portugal's.
European countries that produce fewer cars than Spain – including France and Hungary – have meanwhile attracted more battery plant investments to date, according to consultancy Benchmark Mineral Intelligence.
The automotive sector accounts for around 8% of Spain's economy and 9% of its jobs.
BATTERY HOPES
The revamped PERTE will include a specific line of financing for battery manufacturing.
"The sector is looking favourably on the redesign," said PERTE commissioner Lopez.
Reuters reported in February that India's Tata Group was looking at Spain or Britain as possible battery factory locations, and Slovakia's InoBat is also considering building a factory in Spain.
China's Envision has said it intends to establish a battery plant in Spain, while Spanish newspaper Expansion said on Monday that China's BYD Co, the world's biggest seller of EV and plug-in hybrids, could make a similar move, potentially receiving PERTE Funds.
The government hopes to avoid past tensions with the car companies.
In last year's PERTE round, VW-SEAT received the highest payout, of 357 million euros, but had hoped for more.
A source with direct knowledge of the matter said SEAT's leadership had told the government that it was "900 (million euros) or nothing", threatening to cancel its planned EV and battery investments before accepting the allocation.
The government believed VW "did not have a plan B" if it backtracked on building its southern Europe battery factory in Spain, the source said. The carmaker did not alter its plans.
Asked about the alleged 900 million euro demand, SEAT's Griffiths declined to comment, although he acknowledged the PERTE results were "far away from our expectation".
(Additional reporting by Gilles Guillaume in Paris and Giulio Piovaccari in Milan; Editing by Aislinn Laing, Catherine Evans, Kirsten Donovan)
If you'd like to read the original source of this article please click here Visit Source