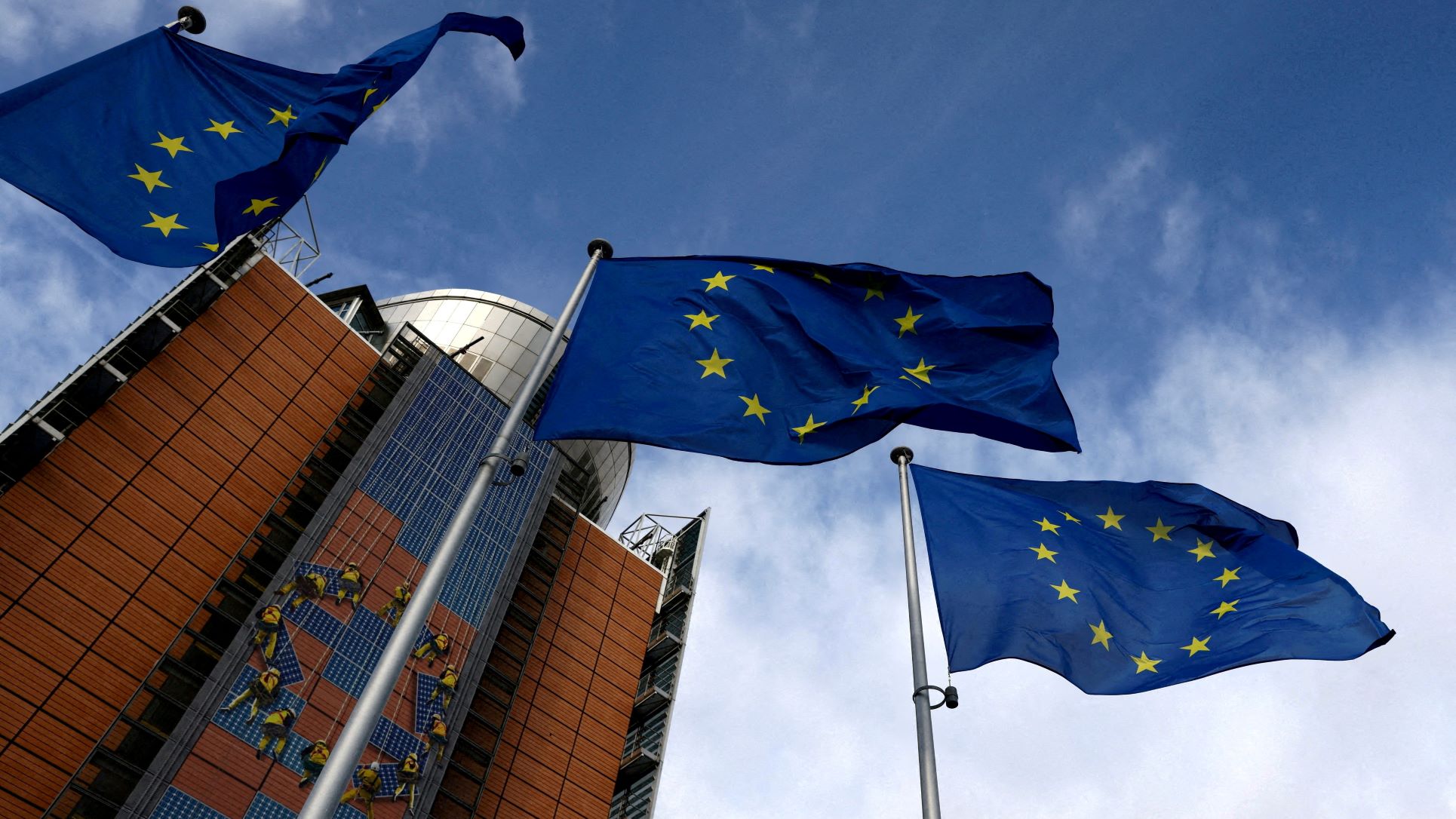 The European Union is set to propose legislation on Tuesday to encourage countries to use more long-term, fixed-price electricity contracts to help shield consumers from price spikes.
The European Commission pledged last year to reassess the electricity market rules after Russia cut gas supplies to Europe, leading to record-high energy prices and supply concerns.
Here's what's in a draft of the EU proposal, seen by Reuters.
STABLE POWER PRICES
The aim is to leave consumers less exposed to short-term swings in fossil fuel prices and ensure increased low-cost renewable electricity generation translates into lower bills.
Countries should do that by using more long-term contracts that lock in fixed prices, according to the draft rules.
If EU countries support new investments in wind, solar, geothermal, hydropower and nuclear electricity, for example, they would have to use a two-way contract for difference (CfD).
Two-way CfDs offer generators a fixed "strike price" for their electricity, regardless of the price in short-term energy markets. If high market prices mean the generator receives extra revenue, those proceeds would be shared among consumers.
Countries should also support power purchase agreements – another type of long-term contract to directly buy electricity from a generator – such as by providing state guarantees. Fossil fuel-powered generators would not receive this support.
The proposal would also form virtual hubs that pool trading on forward electricity contracts in a large region – potentially multiple countries – under a hub-wide reference price. The hope is that if forward markets are more liquid, suppliers will use them to hedge their long-term price exposure, reducing their reliance on short-term price fluctuations.
CUSHIONING CONSUMERS
The draft proposal would strengthen protections for consumers. For the first time, all EU countries would be obliged to protect vulnerable consumers from being cut off by electricity suppliers if they cannot pay their bills.
Billpayers would also gain the right to request a fixed-price contract from any large electricity supplier, to help them to avoid tariffs tied to volatile energy markets. Currently, EU consumers only have the legal right to request a variable price contract.
If energy prices spike to extreme levels, governments would also be able to temporarily fix the price of up to 80% of consumers' and small businesses' electricity consumption, to tame their bills.
GREENER POWER MIX
Europe is attempting to integrate a growing share of renewable energy into its electricity system and shift away from fossil fuels.
The draft rules would allow power network operators to pay market participants to use less electricity or use stored power during periods of peak demand – schemes known as "peak-shaving products".
Countries would also set targets for energy storage and demand side flexibility – where consumers get paid to adjust their use to help balance the grid. The aim is to gradually replace the role that gas power plants currently play in balancing power supply.
DEEPER REFORM
The proposal is unlikely to please all EU countries, who disagree on how much reform is needed. EU countries and the European Parliament will negotiate and approve the reforms – a process that could take more than a year.
Spain, France and Greece are among those seeking deeper reform to how power prices are set. Currently, power prices in Europe are set by the running cost of the final power plant needed to meet overall demand. Often, that is a gas plant, so gas price spikes can send electricity prices soaring.
But the draft document suggests the Commission has chosen a route preferred by Germany, Denmark, Latvia and others who want to keep the price-setting system and make more limited tweaks.
They say Europe's existing power market has fostered years of lower power prices and helped avoid energy shortages – and that drastic change could scare off investors, putting at risk the hundreds of billions of euros in renewable energy investments Europe needs to meet its climate goals.
(Reporting by Kate Abnett; editing by Jane Merriman and Jason Neely)
If you'd like to read the original source of this article please click here Visit Source