This article is sponsored by VGrid Energy Systems.
It's no secret that composting is good for the environment, and while the process has been around for thousands of years, innovations in composting operations are creating stronger end-products that are helping to reverse climate change.
While the transformation of waste into organic soil conditioner can increase crop yields while reducing fertilizer and fungicide use, landfill waste and pollution, scientists have discovered the benefits of composting are far more significant than previously anticipated — so much so, in fact, that many believe composting should be at the very foundation of a sustainable future and economy.
However, not all compost is made equally. As we look to improve sustainable operations, new advancements, such as Persist biochar and Persist PAF from California-based VGrid Energy Systems, help composting go further by improving aeration, reducing bulk density and stimulating microbial activity — all of which increase temperatures and accelerate the composting process, driving throughput and profitability.
Modern advancements and first-hand research have enabled VGrid to super charge its patented Persist biochar. When used as a one-two punch with its co-product Persist PAF, a certified-organic plant enhancer, the benefits increase manifold.
For example, studies have found that biochar and PAF, when used together, can significantly reduce GHG emissions such as nitrous oxides, methane and ammonia from composting piles. This enhanced compost has reduced unpleasant odors and leaching, preserving nitrogen and other valuable nutrients in the compost.
By applying 10 percent Persist biochar and a 1:500 dilution of PAF, aeration increases with a significant boost in microbial activity and diversity in soil, as well as nutrient retention. It also promotes higher levels of humification while lowering bulk density and moisture loss. This acceleration matures compost faster, improving overall yields and lowering the long-term processing costs for composting operations. The result is better, safer and faster composting, with an end-product that has increased water-holding capacity and significantly improved plant yields and long-term soil health when used for planting.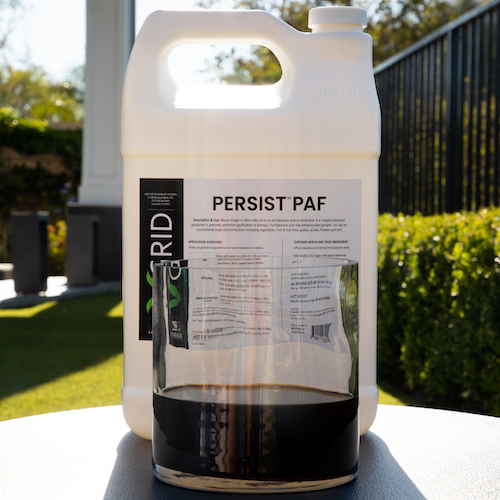 VGrid's Persist biochar is produced from 100 percent California-grown pistachio shells — a waste product that would otherwise end up in landfills, decomposing and releasing CO2 back into the atmosphere. Instead, the Persist biochar captures this CO2 in a stable form for over 1,000 years. In fact, every ton of Persist biochar sequesters up to three tons of carbon from the atmosphere. Additionally, if added to compost feedstocks with a high concentration of nitrogen, VGrid's product reduces the loss of nitrogen, especially in the form of the ammonia. The subsequent soil is far and above richer than a traditional compost.
As the practice of composting continues to grow, many are trying it for the first time and can often feel overwhelmed. However, products such as Persist help make the process simple, fast and effective.
There are three easy steps to elevate your compost with Persist: Build; maintain; and monitor. Adding the two co-products between layers of organic matter or working them into the compost can establish a relatively uniform distribution.
Periodically, or as the compost is turned, add about 3 to 5 percent biochar by volume. An additional 1:400 dilution of VGrid's PAF should also be added to maintain elevated microbial activity and to prevent the compost from drying. Finally, the microorganisms in compost need both carbon and nitrogen to thrive, but when biochar is included in compost, nitrogen loss is significantly reduced. This means the biochar is doing its job, but it can throw off the carbon to nitrogen ratio, which should fall between 25:1 and 35:1.
The wonderful thing about composting is that everyone can — and should — do it. We can stop climate change, but it will take all of us coming together to fix this problem. Adding biochar and PAF liquid plant enhancer to composts will help us get to a healthier and more habitable future much faster and for generations to come.
Persist biochar is OMRI listed as an organic product and is also USDA Certified Biobased Product. Learn more about VGrid Energy Systems and its Persist biochar and PAF liquid plant enhancers.
If you'd like to read the original source of this article please click here Visit Source