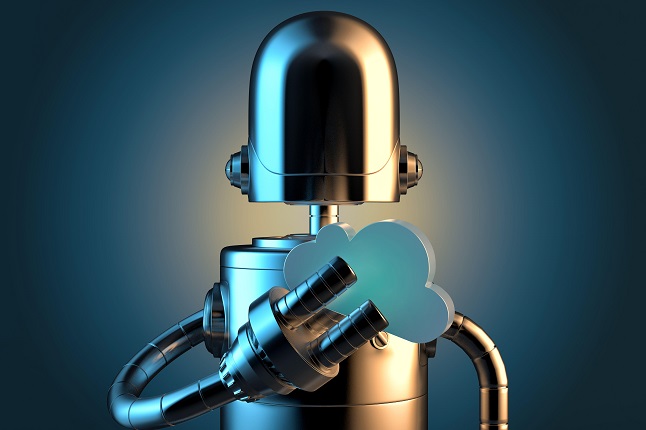 As the economy continues to slow and the financial outlay for cloud accelerates, organizations are looking for ways to optimize their cloud spend and stretch the dollar to its full extent.
The use of AI-powered tools can help organizations optimize their cloud spending by providing insights and recommendations difficult to achieve through historically manual processes.
Leveraging AI for cloud optimization is a unique "workload specific" endeavor, which means
each workload requires its own trained model.
Therefore, IT teams and developers must fine-tune their cloud spending management approach with customized AI optimization models.
One type of AI-based technology that can help manage cloud spending is machine learning, as it's used to train a model (responsible for managing the workload) on previous usage patterns of an organization's IT systems.
Once trained, the machine learning model can be used to predict not only the usage of individual resources, but also auto-scale them appropriately.
Predicting Usage Patterns, Future Usage
"Truth be told, no one wants to be paying for pay-on-demand cloud resources when they are not being fully utilized," says Vadim Vladimirskiy, CEO of Nerdio. "That's where AI-based cloud optimization technology comes in."
It helps organizations analyze past usage patterns and predict future usage on a per-resources basis, allowing an auto-scaling mechanism to grow, while shrinking the cloud footprint in response to anticipated demand.
"The end result is fewer billing meters spinning when usage is slow, and more meters spinning when it's high," he says. "That means organizations are actually paying for what is being used instead of a flat rate."
Sreekar Krishna, US leader for AI at KPMG, explains the two important AI-based technologies that can help are simulation, used for creating a lot of what/if scenarios, and forecasting, or predicting where the future will be, given the current conditions.
"While these methods have been used a lot in the past for spend analytics, the advent of new AI methods, especially deep learners, have advanced the simulation and forecasting arena by huge magnitude," he says. "Now it's possible to simulate complex situations with ease compared to what was possible in the old traditional methods."
Andrew Diaz, chief strategy officer at Granulate, notes one of the key benefits of AI-based cloud tools is their ability to learn and adapt to an organization's usage habits, which allows for better monitoring and management of cost-driving workloads.
"By continuously analyzing cloud infrastructure, these tools can identify bottlenecks and conventions that contribute to higher cloud costs, enabling organizations to reduce their cloud spending significantly," he says.
However, the benefits of AI for cloud management extend beyond financial savings.
"By automating optimization to improve application performance, DevOps teams can focus on innovation and productivity, rather than spending time on manual monitoring and tuning," Diaz adds.
CIOs, IT Leaders Responsible for Strategy
Vladimirskiy says CIOs and executives overseeing an organization's IT strategy are responsible for evaluating and implementing effective AI-based cloud optimization solutions.
Because the efficacy of an AI-based cloud optimization system is based on how well-trained the model responsible for managing the corresponding workload is, it's not advisable for organizations to start from scratch.
"Vendors who focus specifically on this type of optimization will have access to more in-depth data across multiple organizations to train these models and ultimately create successful AI cloud optimization solutions," he says.
Diaz agrees the key stakeholders when it comes to implementing AI to manage cloud spending and control costs are primarily IT management, but finance plays a key role.
"IT teams are responsible for implementing and maintaining the AI-based technologies and helping to find meaning from the results of those tools," he explains.
Finance is involved as the final stop when it comes to paying for cloud resources, controlling what portion of the organization's budget goes into both the cloud resources, and the AI technology used to help manage the cloud.
KPMG's Krishna lists CFO, head of finance transformation, head of infrastructure accounting, the CIO, and cloud leaders as stakeholders and adds the application of AI to manage cloud spend will be a particularly challenging problem to solve.
"Historically, there has been friction on the topic of technology spending between IT and finance or CFOs and CIOs," he says. "The ease of technology consumption brought on by the onset of cloud technologies has exacerbated this challenge."
He points out cloud has consumerized tech such that anyone in the enterprise can click a radio button and incur incremental cost.
"Now more than ever, it cannot be one person's charter to produce the right architecture or cost profile to optimize cloud spending," he says. "We believe that the challenge of controlling cloud spending will not be solvable unless IT and finance forge a new collaborative partnership to address tech spending."
A Growing Need for Cloud Management
According to a recent ESG Global report, 71% out of 742 senior IT decision-makers from midmarket and enterprise companies expect to develop and deploy cloud-native applications in 2023, an 11% increase from 2022.
Nerdio's Vladimirskiy explains as organizations continue investing heavily in cloud and its services, it's important to keep in mind that implementing AI cloud spend management strategies starts as a slow burn.
That approach will require regular evaluation and testing against non-mission-critical workloads, followed by a gradual rollout into production.
"For companies to see their money well spent and results as soon as possible, especially during economic uncertainty, it's critical that they begin this process as soon as possible," he says.
Krishna adds the speed of digital transformation is accelerating, resulting in more use of cloud-first services.
"It is hard to always estimate the proliferation that cloud services can have, unless there is very detailed telemetry around the business use of these cloud services," he says. "It is important organizations take the opportunity to build a robust data collection platform that can aid in cloud spend analytics."
What to Read Next:
Edge Computing Eats the Cloud?
Harnessing the Power of the Cloud
Cloud in 2023: From Customer Transformation to the Metaverse
If you'd like to read the original source of this article please click here Visit Source